Saints Corner
Saint Catherine of Siena


Saint Catherine of Siena, a laywoman associated with the Dominican Order, was a mystic, activist, and author who had a great influence on Italian literature and the Catholic Church.
When Catherine was 21, she described an experience she referred to as her "mystical marriage to Christ." There are debates over whether St. Catherine was given a ring; with some claiming she was given a bejeweled ring, and other claiming the ring was made of Jesus's skin. St. Catherine herself started the rumor of the latter in her writings, but she was known to often claim the ring itself was invisible. Such mystical experiences change people, and St. Catherine was no exception. In her vision, she was told to re-enter public life and to help the poor and sick. She immediately rejoined her family and went into public to help people in need. She often visited hospitals and homes where the poor and sick were found. Her activities quickly attracted followers who helped her in her mission to serve the poor and sick. She was also credited with helping to start a crusade to the Holy Land. On one occasion, she visited a condemned political prisoner and was credited with saving his soul, which she saw being taken up to heaven at the moment of his death.
St. Catherine was drawn further into the world as she worked, and eventually she began to travel, calling for reform of the Church and for people to confess and to love God totally. She became involved in politics and was key in working to keep city states loyal to the Pope. From 1375 onwards, St. Catherine began dictating letters to scribes. She petitioned for peace and was instrumental in persuading the Pope in Avignon to return to Rome. She was instrumental in restoring the Papacy to Rome and in brokering peace deals during a time of factional conflict and war between the Italian city states.
She also established a monastery for women in 1377 outside of Siena. She is credited with composing over 400 letters, her Dialogue, which is her definitive work, and her prayers. These works are so influential that St. Catherine would later be declared a Doctor of the Church. She is one of the most influential and popular saints in the Church.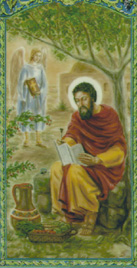 Saint Matthew
Little is known about St. Matthew, except that he was the son of Alpheus, and he was likely born in Galilee. He worked as a tax collector, which was a hated profession during the time of Christ.
According to the Gospel, Matthew was working at a collection booth in Capernaum when Christ came to him and asked, "Follow me." With this simple call, Matthew became a disciple of Christ.
From Matthew we know of the many doings of Christ and the message Christ spread of salvation for all people who come to God through Him. The Gospel account of Matthew tells the same story as that found in the other three Gospels, so scholars are certain of its authenticity. His book is the first of the four Gospels in the New Testament.
Many years following the death of Christ, around 41 and 50 AD, Matthew wrote his gospel account. He wrote the book in Aramaic in the hope that his account would convince his fellow people that Jesus was the Messiah and that His kingdom had been fulfilled in a spiritual way. It was an important message at a time when almost everyone was expecting the return of a militant messiah brandishing a sword.
It is thought he departed for other lands to escape persecution sometime after 42 AD. According to various legends he fled to Parthia and Persia, or Ethiopia. Nothing is recorded of Matthew's passing. We do not know how he died, if his death was natural or if he was martyred.
___________________________________________________________________________


Saint Helena of the True Cross

St. Helena discovered the Cross upon which Jesus was crucified
St Helena (August 18), the mother of Constantine, became celebrated for her charity to the poor and to prisoners
By Spiritual Life on Monday, 15 August 2011
 
Helena (c 249-c 329) was the mother of Constantine the Great, the first Christian emperor. She is held up to reverence as the discoverer of the Cross upon which Jesus was crucified. The contemporary historian Eusebius recorded that Helena converted to Christianity around 312, after her emperor son, inspired by a flaming cross, had destroyed his rivals at the Milvian Bridge. She became celebrated for her charity to the poor and to prisoners.
 
Helena was almost 80, however, when, in 327-8, she made her pilgrimage to the Holy Land. Jerusalem had been desecrated in 130 by the Emperor Hadrian, who had built a pagan temple on the supposed site of Jesus's tomb near Calvary. Helena ordered its demolition, and then selected a spot close by to start digging for relics. Three crosses were found, and the true one identified when a sick woman was cured after touching it. Nails and a tunic were also discovered. While in the Holy Land, Helena supervised work on the Church of the Nativity in Bethlehem, and on the Church of the Mount of Olives. 
She died soon after her return to Rome, and was buried on the Via Labicana.
Her remains are now in the Vatican Museum.
 
______________________________________________________________________________


Saint Thomas the Apostle

Facts  Feastday: July 3            Patron of architects
http://www.catholic.org/saints/saint.php?saint_id=410
---
St. Thomas was a Jew, called to be one of the twelve Apostles. He was a dedicated but impetuous follower of Christ. When Jesus said He was returning to Judea to visit His sick friend Lazarus, Thomas immediately exhorted the other Apostles to accompany Him on the trip which involved certain danger and possible death because of the mounting hostility of the authorities. At the Last Supper, when Christ told His Apostles that He was going to prepare a place for them to which they also might come because they knew both the place and the way, Thomas pleaded that they did not understand and received the beautiful assurance that Christ is the Way, the Truth, and the Life. But St. Thomas is best known for his role in verifying the Resurrection of his Master. Thomas' unwillingness to believe that the other Apostles had seen their risen Lord on the first Easter Sunday merited for him the title of "doubting Thomas." Eight days later, on Christ's second apparition, Thomas was gently rebuked for his skepticism and furnished with the evidence he had demanded - seeing in Christ's hands the point of the nails and putting his fingers in the place of the nails and his hand into His side. At this, St. Thomas became convinced of the truth of the Resurrection and exclaimed: "My Lord and My God," thus making a public Profession of Faith in the Divinity of Jesus. St. Thomas is also mentioned as being present at another Resurrection appearance of Jesus - at Lake Tiberias when a miraculous catch of fish occurred. This is all that we know about St. Thomas from the New Testament. Tradition says that at the dispersal of the Apostles after Pentecost this saint was sent to evangelize the Parthians, Medes, and Persians; he ultimately reached India, carrying the Faith to the Malabar coast, which still boasts a large native population calling themselves "Christians of St. Thomas." He capped his left by shedding his blood for his Master, speared to death at a place called Calamine. His feast day is July 3rd and he is the patron of architects.
______________________________________________________________________________
        

Saint Therese of Lisieux

Taken from: www.littleflower.org/

The world came to know Therese through her autobiography, "Story of a Soul". She described her life as a "little way of spiritual childhood." She lived each day with an unshakable confidence in God's love. "What matters in life," she wrote, "is not great deeds, but great love." Therese lived and taught a spirituality of attending to everyone and everything well and with love. She believed that just as a child becomes enamored with what is before her, we should also have a childlike focus and totally attentive love. Therese's spirituality is of doing the ordinary, with extraordinary love.

Therese saw the seasons as reflecting the seasons of God's love affair with us. She loved flowers and saw herself as the "little flower of Jesus," who gave glory to God by just being her beautiful little self among all the other flowers in God's garden. Because of this beautiful analogy, the title "little flower" remained with St. Therese.

Her inspiration and powerful presence from heaven touched many people very quickly. She was canonized by Pope Pius XI on May 17, 1925. Had she lived, she would have been only 52 years old when she was declared a Saint.
"My mission - to make God loved - will begin after my death," she said. "I will spend my heaven doing good on earth. I will let fall a shower of roses." Roses have been described and experienced as Saint Therese's signature. Countless millions have been touched by her intercession and imitate her "little way." She has been acclaimed "the greatest saint of modern times." In 1997, Pope John Paul II declared St. Therese a Doctor of the Church - the only Doctor of his pontificate - in tribute to the powerful way her spirituality has influenced people all over the world.